Welcome!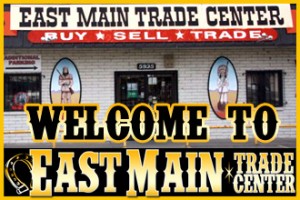 Welcome to the website of East Main Trade Center. Here at East Main Trade of Farmington NM, you can expect hometown service, an unparalleled selection and you'll get treated just like family.
Please check out the navigation links all over the site to see our massive inventory of guns, ammo, reloading materials, sporting goods, saddlery, tack, pawn merchandise and much, much more!
We sell both new and used merchandise and are a premium authorized dealer for many popular brands like Remington, Leupold, Heritage, Rock River, Kimber, and tons more.
If you're interested in the oldies but the goodies, we test all of our pre-owned merchandise before putting it out for sell.
If you don't see it online, we probably have it anyway, so be sure to ask if you don't see something here on EastMainTrade.com.
Don't forget to geared up this season, drop on by to see us!
Our address is:
5925 East Main Street
Farmington, NM 87402
View Map
If you have any questions, please call us at 505-326-7474
Happy Trails!