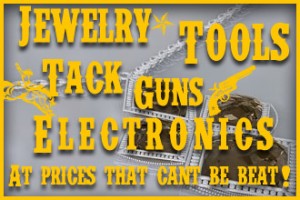 In this economy, we understand you may want to save some money.
While we do carry a ton of great new products, we also carry a load of just about everything you could expect to find at trading post.
We have pre-owned jewelry ranging from engagement rings and wedding sets, necklaces, bracelets, and genuine Navajo turquoise belts, bracelets, and much more.
Our tool selection is massive: You can find Snap-On, Cornwell, Craftsman, and many other name brand tools at prices well below 50% retail! Not only do we have hand tools, we also have many power tools and accessories that are fully tested before putting out for sale.
As said, many of the firearms we stock are brand-spankin'-new. However, for the fiscally sane of us, we also have a used collection of rifles, pistols, shotguns and many other firearms that dwarf anything within hundreds of miles.
While much of our tack is also new, you can easily find gently-used saddlery and accessories that can save you big. Not just the saddles, but anything you might need to hit the trails.
Looking for cheap entertainment? Well, we have full lines of televisions, gaming systems & games, and DVD & VHS videos and players at prices the big-chains cringe at. Additionally, feel free to take a look at some of the cameras we have in stock or various other useful electronics.
If you're not in the market for a purchase but instead need to pawn, sell, or trade, please see our pawn page.