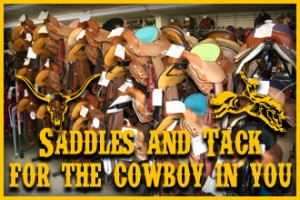 We have the largest selection of saddlery and tack in the four-corners area. We stock everything from top-of-the line Billy Cook and Colorado Saddles to discount brands for the budget weary.
But we don't stop at saddles; we have everything from A-Z to accommodate your riding needs. Whether it is barrel-racing, trail-riding, or packing out your latest game we have it all. Come by and see our blankets, bits, bridles, and all that's in-between.
Need to take care of your riding partner? Great, we stock healthcare products for your horses as well as all the maintenance items to make sure your four-legged buddy is healthy on the trail or on the arena.