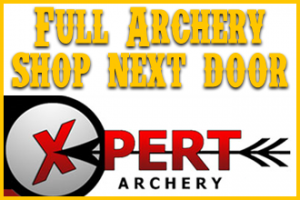 East Main Trade Center is where you'll find everything you need for the outdoorsman in you. If you're of the type who likes to draw back his weapon instead of racking a shell, then visit Xpert Archery right next door.
At Xpert Archery you will find a full indoor range, professional staff and service, the best selection of bows, arrows, and every archery accessory you could ever dream of. Plus, you'll have qualified technicians certified by Hoyt, PSE, and other major bow manufacturers in the U.S. so you'll know you're being treated by the best.
As well, Xpert Archery has an entire line of clothing accessories for your next hunting trip. Xpert stocks boots from Wolverine, and cammo lines from Sitka, RealTree, and Kings for both cold and warm weather occasions.
So swing on in-and-out of the two stores–we're connected via an easily accessible walk-through! Although the businesses are separate entities, items from either Xpert Archery or East Main Trade Center can be purchased on whichever side of the store you find yourself on!